Social Media
Noise design and build websites to encourage the sharing of pages at strategic points with social media sites such as Facebook and Twitter.
And, in order to make sharing between your website and Facebook more seamless, it will include Open Graph META Tags within relevant pages which inform to Facebook the correct descriptions, titles, and images to use when a user shares your content.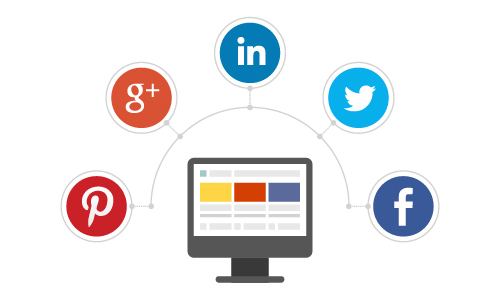 Social Media Service
Social media has become a vital marketing function for any business.
There are over one billion Facebook users worldwide, 150 million people on Twitter and 100 million LinkedIn members. According to Hubspot, 92% of marketers in 2014 claimed that social media marketing was important for their business, with 80% indicating their efforts increased traffic to their websites.
Without social media, your inbound traffic is limited to people already familiar with your brand and individuals searching for keywords you currently rank for. Every social media profile you add is another path leading back to your site, and every piece of content you syndicate on those profiles is another opportunity for a new visitor. The more quality content you syndicate on social media, the more inbound traffic you'll generate, and more traffic means more leads and more conversions.
Noise Agency are experienced in social media and understand the value of cultivating and improving your 'brand signal' to convince the search engines that your brand is legitimate, credible, and trustworthy.
Social Media Marketing
Social media marketing, will lead to more customers, more traffic, and more conversions.
Social media marketing can improve your business in the following ways:
Increased Brand Recognition
Improved brand loyalty
More Opportunities to Convert
Higher conversion rates
Higher Brand Authority
Increased Inbound Traffic
Decreased Marketing Cost
Better Search Engine Rankings
Richer Customer Experiences
Improved Customer Insights
The Decline of Organic Social Media Reach
There has been a sharp decline in organic Social Media reach that came to a head in 2014. There are two main reasons for this organic reach decline, First, there's simply too much content being published on Social Media making visibility in the News Feed increasingly competitive. Second, the Social Media Channels (in particular Facebook) are deliberately trying to show people the content that is most relevant to them, as opposed to surfacing all the content available.
The most effective action you can take to counteract these changes, is to be more selective about what you publish and "boosting" the most potent content to maximize your reach. Facebook defines organic reach as "how many people you can reach for free on Facebook by posting to your Page." Prior to 2012, that number used to be much, much higher than it is now. Since 2104, the Social Media channels surface the content organically to a small fraction of your fan base -- 16% on average -- And that fraction has been in decline ever since.
Fewer people seeing your Page's organic posts means fewer clicks, comments, and shares. And having fewer of those interactions means fewer conversions, leads, and customers.
More Money = More Visibility
As Social Media has evolved into more of a paid marketing platform than an organic one, marketers are realizing they're now expected to pay for ads and then yet again to reach those newly acquired Fans, even if those Fans have seemingly elected to see a brand's posts by liking their Page in the first place.
The Facebook marketing ecosystem
Facebook is encouraging marketers to look at their fan bases as a way to make paid advertising more effective rather than using it as a free broadcast channel. Additionally, Facebook says you should assume organic reach will eventually arrive at zero. So, if you really want to reach your target audience on Facebook, you'll need to supplement your organic efforts with some paid advertising. Additionally, Facebook advises marketers to expect things to keep changing, and often times for the better.
Facebook has never been stagnant in terms of innovation, so no marketer can figure out a formula and then stick with it forever. A machine learning-based algorithm is what's responsible for surfacing content on your News Feed today. This algorithm adapts to individual user preferences. So, for example, if you never, ever, interact with photos in your News Feed, Facebook's algorithm will pick up on that and show you fewer photos over time. Ultimately, there are thousands of factors that inform Facebook's algorithm, which range from using trigger words that indicate important events (e.g., "congratulations") to whether or not you've actually clicked a link in a post before liking it. Facebook's end goal here is to have its algorithm match News Feed content to the individual needs and interests of each and every user.
Campaign Execution
Following the initial campaign planning to determine the four 'content pillars' the campaign will be delivered and monitored on a daily basis. The following framework of tasks will be applied:
Within four content pillars also push business messages/product knowledge
Competitions will form an integral part of the social strategy
Facebook posts
Twitter posts
YouTube/Instagram will be more adhoc but will be published across social channels
Every month, draft a content schedule mixing up the four key content pillars for broadcast