Search Engine Optimisation
SEO requires real experience and deep knowledge of best practices to be effective and deliver a progressive long term result. A solid SEO strategy and SEO management plan will produce valuable results – it is perhaps the most critical element of our digital marketing services.
When it's done right, it will prove to be the most cost-effective digital marketing channel you can buy.
SEO management is a long term investment and requires a lot of research and sufficient time for search engines like Google to index your website and produce rankings for your most important key phrases.
The aim of Search Engine Optimisation (SEO) is to improve the position of your website within the search engines result pages (SERPS) and thereby increase the number visitors and conversions.
The majority of search engines users are more likely to choose one of the top 5 suggestions in the results page so to take advantage of this and gain visitors to your website, you need to rank as high as possible.
Noise Agency's SEO practices improve the user experience and usability of a website. User's trust search engines and having a presence in the top positions for the keywords the user is searching increases the website's trust.
SEO is also good for the social promotion of your website. People who find your website by searching Google or Yahoo are more likely to promote it on Facebook, Twitter, Google+ or other social media channels.
One of the hidden advantages of ranking in the top positions of the SERPs is brand awareness. Users are more likely to trust a brand when it appears in the first places when they search for a term rather than brands that don't have a good web presence.
SEO presents a very cost effective and a reliable form of marketing where progress and ROI are relatively simple to monitor and report.
SEO Service
We produce monthly reports and keep in regular contact with the Marketing team responsible for the site. We will also collaborate with any additional contributors to the development or marketing of the website. We produce regular ranking reports and post all links we have created for your reference.
Some of the main tasks we complete are as follows:
Keyword Research
Page Optimisation
Technical Review
Link Strategy
Content Provision
Google Products
Bing / Yahoo Products
Social Networks
Reporting
Our standard projects are split into three main areas:
Technical Review
Optimisation
Link Profiling, Content Marketing & Reporting
Link Building
Link building currently makes up about 60% of how a website (page) ranks for important keywords. Google uses page factors to gauge the topic of the site but uses the inbound links to the site to gauge the popularity of the site (pages) and how important other sites think the information on your site is. A simple way to look at it would be, Google looks at the links from other sites as votes, and the more votes you have the more Google will rank your site for important keywords.
SEO Reporting
In depth reporting of website traffic and brand engagement, deliver to your inbox monthly providing key insights to your website performance with comparisons to your competitors and within your industry.
Search Visibility
We constantly gauge our websites overall rankings health for your campaign and against your competitors. The score or rating is measured on a scale of 1 – 100 and represents your overall rankings performance.
Desktop v Mobile
As above but comparing against mobile devices.
Organic Visits
A full breakdown of the organic visits to your website, Organic traffic generally refers to traffic from search engines that is of the non-paid nature. This traffic is being sourced via the search engines and would therefore indicate the overall quality of the content featured on the site and the volume of visitors.
Domain Authority
Featured as a score (on a 100-point scale) that predicts how well a website will rank on search engines. We use Domain Authority when comparing your site to your competitors or tracking the "strength" of your website over time.
External Links
External Links are hyperlinks that point at (target) any domain other than the domain the link exists on (source). In layman's terms, if another website links to you, this is considered an external link to your site. Similarly, if you link out to another website, this is also considered an external link.
The Competitive Link comparison enables us to track how your backlink profile is performing against your competitors. This summary is updated roughly every 3-4 weeks.
Keyword Rankings
We recommend tracking keyword x70 rankings for you and your competitors (x3 companies).
We then present results with a breakdown of your keyword rankings data for the current time period of the campaign (monthly). This information is broken down by search engine and competition.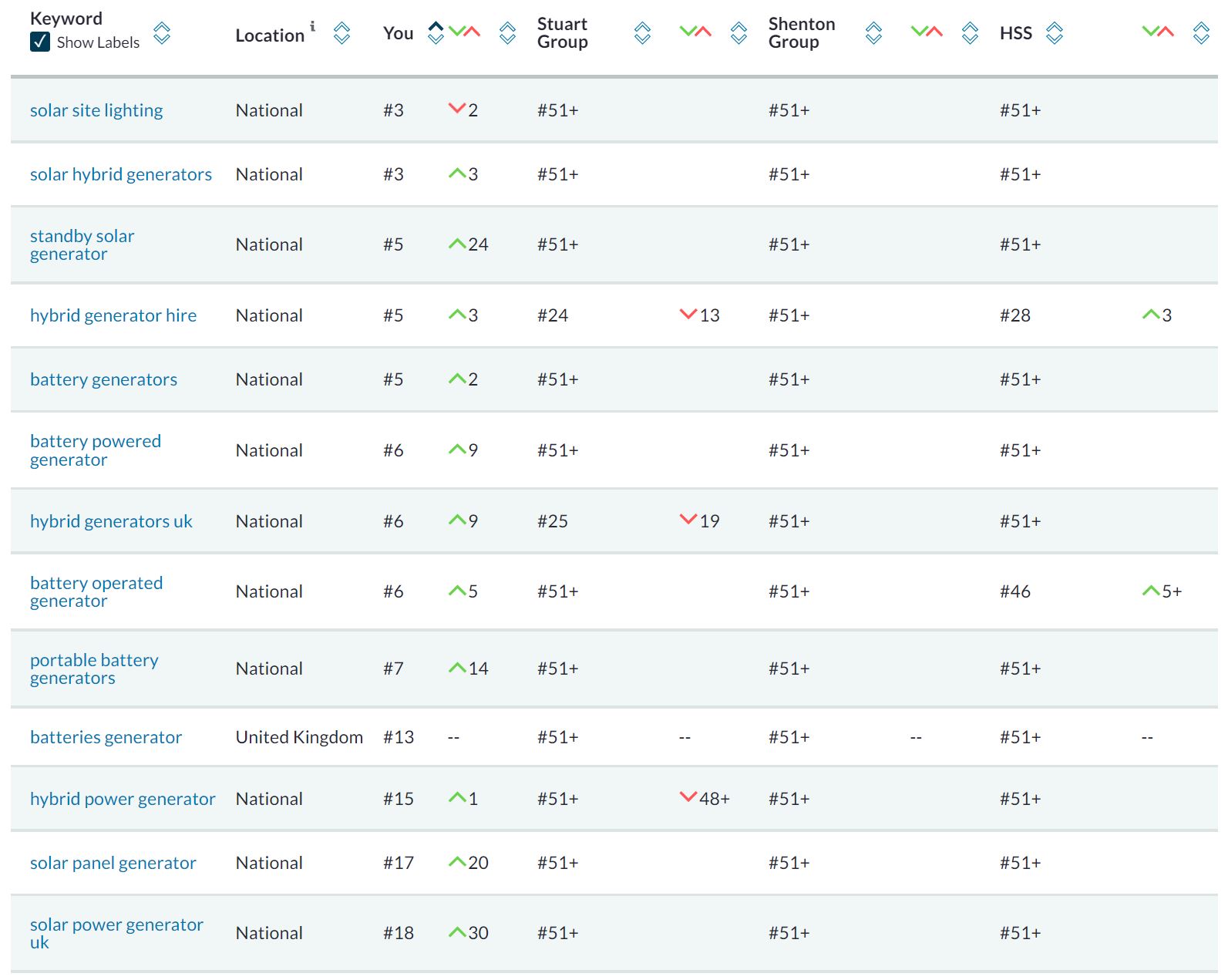 Upon request we can also report the last 30 days, last calendar month, 3 months, 6 months, year and all time or even choose a custom range.
Universal Results
Universal search is the term given to results that include other digital content such as video, images, news, books and blogs. So the competition for valuable real estate on the results page is steeper and includes not just other websites but digital media of all types.
The volume of content applicable to this feature is displayed versus the overall volume available (based on the tracked keywords).