Winning Moments Promotion with Yutaka
Date: 28/03/22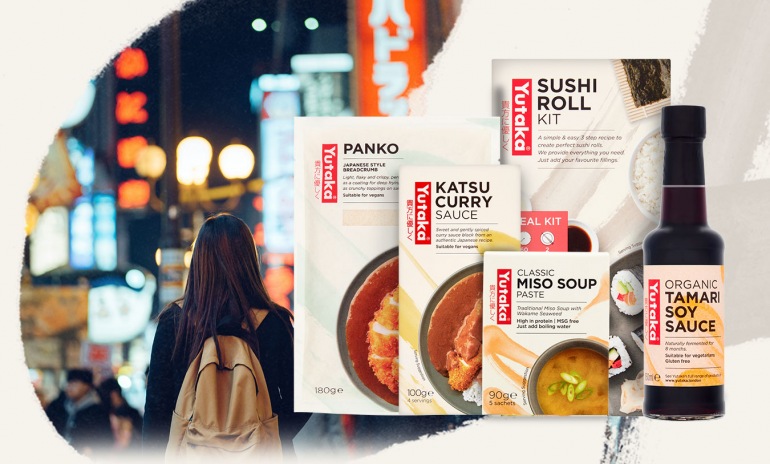 Tazaki Foods have been the UK's leading supplier of Japanese food and cooking ingredients since 1995, under the Yutaka brand name. They supply Japanese restaurants and the hospitality industry, as well as providing an extensive range of Japanese food to all the leading supermarkets, plus online suppliers such as Ocado, Amazon and their own online store.
With the delayed 2020 Olympic Games being held in Tokyo in 2021, Tazaki Foods were keen to make the most of the worldwide focus on Japan by promoting their extensive range. They approached Noise Agency to create an on-pack promotion using a click to win, winning moments technique to boost sales, capture customer data and encourage exploration of the wider Yutaka range.
Yutaka means good harvest, and we provided just that for our many prize winners…
Win A Trip To Japan
Noise created an on pack promotion 'Win with Yutaka' with a set of stunning prizes to encourage customer participation. These prizes included 100 Japanese restaurant gift cards worth £50 each, 100 online Japanese cookery courses worth £25, and five top prizes of a trip to Japan to experience genuine Japanese food and culture first-hand. The top prizes were worth £2,000 each and included flights, accommodation, and travel insurance.
The on-pack promotion was launched ahead of the Tokyo Olympics, in June 2021, in order to cover the pre-Games publicity and the period of the Games themselves (July 23rd to August 8th) when the interest in Japan was at its height. To maintain the momentum and interest in Japan and Japanese food, the promotion continued through to March 2022.
Click To Win
The mechanic of the competition was simple yet highly effective. Entrants were asked to purchase a Yutaka product from their range of over 50 varieties, covering everything from sesame seeds to wasabi paste, soy sauce to Soba noodles.
A number of winning moments were allocated throughout the day, and if a qualifying entry was made within 15 minutes, the entrant received that prize.
Customers entered their 13-digit product bar code on the competition website to verify purchase. The website also captured their name, address and email, and asked for their permission to receive marketing activity.
A Complete Service
Noise organised every element of the on-pack promotion from start to finish. We created the campaign concept, sourced the prizes and designed the on-pack artwork. Our expert programming team created the entry website and winning moments mechanic, working closely with the client throughout. We monitored the promotion carefully, varying the number and frequency of winning moments to match the levels of entry and number of prize winners. Noise also fulfilled all winning claims and arranged PR with the top prize winners.
Noise provided all of this on a fixed fee basis, providing the client with set-price peace of mind, regardless of the number of entries or the duration of the promotion.
Japan Holiday Prize Winners
Among the Japan holiday prize winners was Richard Sharp from Wokingham. Richard is a regular customer of Yutaka and scooped the top prize when he bought his usual pack of miso soup.
"I was so amazed to win a trip to a Japan as this is a country that I've wanted to visit for such a long time," said Richard. "Yutaka has introduced me to the flavour of Japan at home. I have enjoyed their products for a little while now."
"Japan is such a wonderful, vibrant country," said Ken Furukawa, CEO of Tazaki Foods. "I'm confident that Richard will have a fantastic trip of a lifetime enjoying all that Japan has to offer."
The Result
The on pack promotion was a big success, with 55,000 total website views which resulted in over 30,000 entries received. This not only boosted sales and encouraged wider product purchases, it also provided the client with a significant new database of customers who were interested in receiving marketing material from them.
The campaign has served to cement the market-leading position of the Yutaka brand in the Japanese food sector, encouraging new customer purchases and enhancing their Japanese connection with existing customers such as Richard Sharp.
To find out more about our on pack promotions and other marketing services, take a look at our services page or contact us on 01524 68446 or alternatively email talk@noise.agency.
0 Comment
---